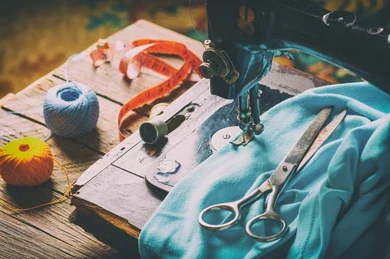 Upcycled Fashion
Utilizing repurposed materials and engaging in process-based art making, which supports social-emotional learning rooted in NECS core values and principles. Projects include room decor: pillows, printmaking, fabric stamping, bunting & garland, weaving, and macrame. Hand sewing: ditty bags, embroidery patchwork, sashiko whipstitch patchwork. Machine sewing: Quillow, coin purse, overnight duffle.
Appropriate for:

5th to 9th Grade

Dates:

September 27 - November 29, 2023 (Wednesdays - 10 sessions)
Patricia Patterson

Art Instructor

Patricia Patterson, PhD has been guiding generations of explorers through nature-based activity for over 35 years as a Teaching EcoArtist, Trauma-Informed Expressive Arts Community Educator, and all seasons TreeHugger. Patricia has dedicated her practice to crafting opportunities which allow humans across the lifespan to discover agency, empathy, respect, regulation, compassion, quiet reflection, appreciation of diversity, and the resilience to adapt to challenging situations through process-based experiential activity. When not engaged with her community, Patricia immerses herself in contemplative co-creation with Earth expressed through multiple mediums, mindful movement and her EcoArts Journal.