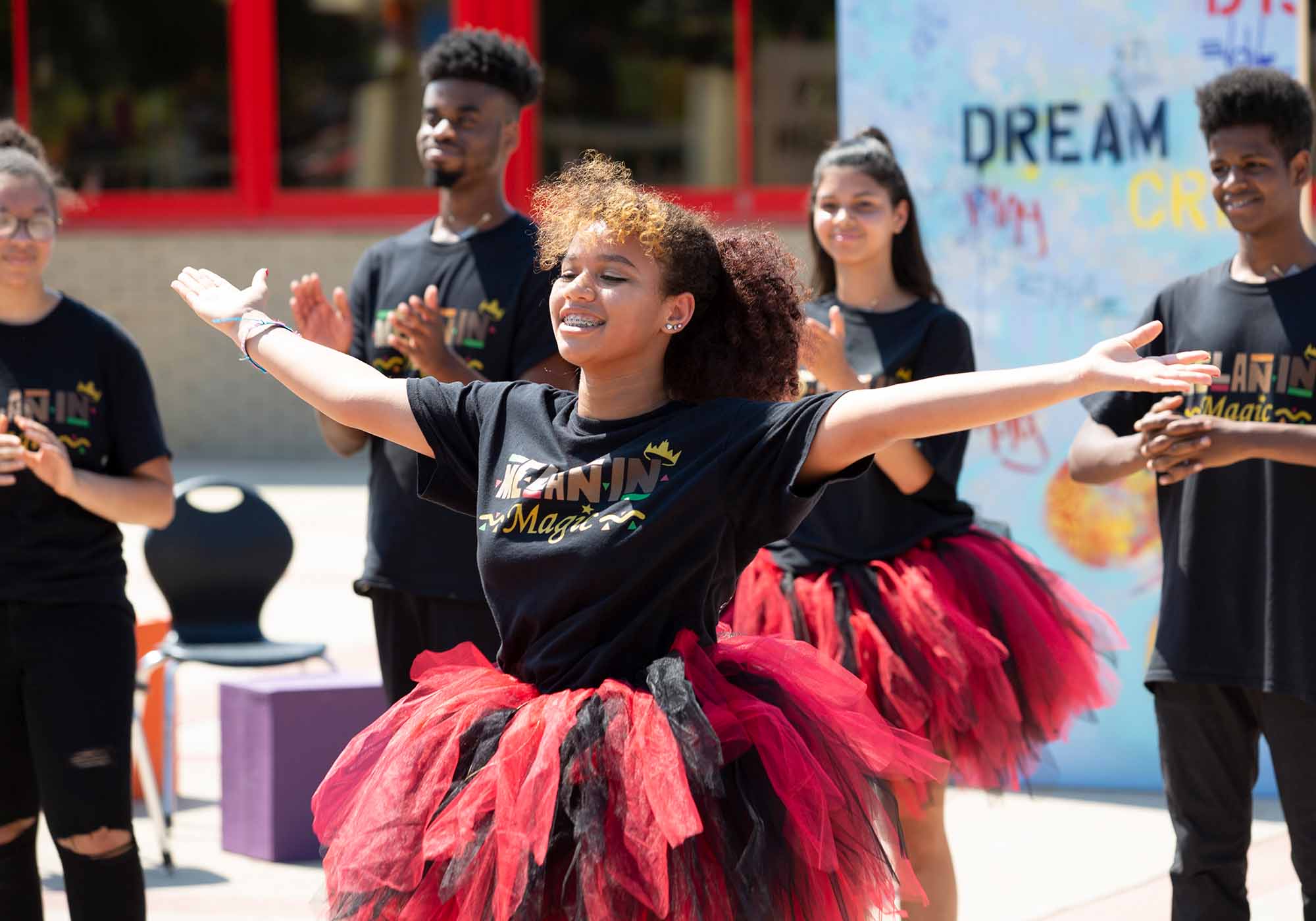 Youth Theater Ensemble
NECS Youth Theatre Ensemble is dedicated to inspiring young people to become social agents by engaging with the magic of theatre while developing their artistic skills.
We maintain a commitment to developing a keen sense of moral leadership alongside artistic achievements in each child. Cast members meet from October through February on Saturdays to rehearse and learn the play of the year.
NECS has been producing Children's Theatre for the past 16 years. CTC promotes theater as a tool for active and critical thinking. Combining a character and ethical education curriculum that emphasizes a culture of inclusivity and service through arts, CTC  fosters in young performers a conviction that they are the voices of positive change in society. Our Plays over the years have addressed topics including but not limited to Race, Environmental Issues, Gender Equality, Bullying, and more. In 2022 we engaged participants in the process of creating an original play.
Play Name: Cyrano de BurgerShack
Tentative Performances Dates: 
Friday, February 10 at 7 PM
Saturday, February 11 at 2 PM
Saturday, February 11 at 7 PM
Appropriate for:

Teens & College

Dates:

Oct 8 - Feb 11, 2023 (Saturdays - 20 sessions)
Instructors
Belle Ritter Torres

Dancer/Choreographer

Performer, teacher and choreographer Belle Torres Ritter graduated from SUNY Purchase '96 and continued there as Asst. Director of Admissions while attending Baruch CUNY Graduate Center in Higher Ed. Administration. For almost 30 years, Miss Belle has performed as part of the national female trio, signed with Atlantic Records, "Sweet Sensation" and currently teaches full-time at Bronx Leadership Academy Highschool II . She is also a teaching artist with NECS, ArtsWestchester and 10566 Arts. Miss Belle received NYS PreK-12 certification from NYU and continues to participate in their Uganda community building collaboration. You can also catch Miss Belle drumming and dancing with Kofi & Sankofa in addition to playing with percussion group Skin Against Metal.

Follow her as she continues teaching/performing locally and internationally seeking to concentrate efforts in publishing research on cultural/social dance and focus on beneficial community arts programming and curriculum. As a mother of three teenagers, Sienna, Isaiah and Elijah, Belle believes modeling good ethics of hard work, dedication and appreciation of the arts will support her children in building a strong foundation toward success. "Todo posible con determinación, amor y apoyo de familia y amistades especiales!"

Bria Waterman

Composer and Poetry Director

Bria The Artist aka The Original Bri-dimensional is a singer, songwriter, producer, painter, sketch artist and poet based in Westchester, NY. Having been recognized by Grammy Award-winning artist, Ne-Yo for her single, "People Fall In Love In Heaven" and also completed a 10-city tour in Dubai, The Artist has released two albums titled Moon Swings and Jaded (self-produced) along with a handful of singles. She displays her producing and vocal arrangement skills with a unique blend of neo-soul, jazzy and nostalgic hip hop sounds that everyone's calling "a vibe." Truly a one-stop-shop, Bria The Artist uses her visual art and poetry as inspiration when creating music, also creating her own cover art, bridging the gap between realms. She aims to create a Bri-dimensional experience that invokes other-worldly imagery for listeners around the globe.

Leslie Fields-Cruz

Artistic Director

Leslie Fields-Cruz is the Executive Director of the Black Public Media (BPM), and produces the PBS series AfroPOP: The Ultimate Cultural Exchange.
Searching for an opportunity to share her love of theater with her children, Leslie Fields-Cruz joined the staff of Peekskill's Children's theatre company in 2009 with her own kids in tow. Since then, every fall season Leslie eagerly looks forward to creating the magic that is theater with the CTC community. Leslie served as the Artistic Director of City Lights Youth Theater in NYC from 1998-2000, and spent several years prior to that as an actor performing on stages in New York and Los Angeles.

When she is not playmaking at CTC, Leslie spends her time funding and distributing documentary films that explore the cultures of African Americans and people of the African Diaspora. Leslie lives in Cortlandt Manor with her musician husband Gerry Cruz, and their three daughters, Maya, Sumara, and Cierra.

Susan Cody

Music Director

When Susan Cody was a preschooler, her father's barber shop quartet taught her their songs and she's been singing and "doing music" ever since. She attended Ithaca College as a piano and voice major and has been teaching music from her home studio in Somers since 1979. Her musical teaching experiences include private and classroom, from birth to adult. She developed a course for school-age children in the elements of music called "What's That Sound" and has served as music director for the Children's Theater Company of Peekskill since its inception. She serves as director of the One World Youth Choir for NECS. She also serves on the steering committee for Race Amity of Northern Westchester and Putnam.