After our grand celebration on September 10 to kick off our 10th anniversary of empowering young people through the arts, we wasted no time launching our Fall programs a week later.
A Commitment to Professional Development
In preparation for Fall, our teaching artists and administrative team engaged in a professional development workshop focused on creating a loving, just, and creative environment for our students. We emphasized recognizing their innate nobility and being consistently intentional about compassion while maintaining structure in the classroom. We discussed our values and how to incorporate them into our lesson plans, all while building a stronger community among ourselves.
Creative Art Classes in Full Bloom!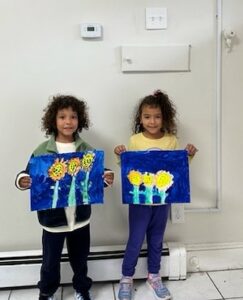 Art classes for elementary students began in mid-September, and it's been heartwarming to see the children's enthusiasm as they dive into their art projects. We offer Mixed Media and Expressive Upcycle art for elementary students from Kindergarten to 5th Grade.
For our middle and high school students, we've introduced media arts, including filmmaking and photography. Our film students are currently working on their first shorts, and our photography students are learning about composition and photography as a means of capturing stories using DSLR cameras.
Building Character through Theater
Our theater program kicked off the first weekend in October, marking our 18th season offering inspiring and uplifting theatre. We have 14 participants this year and hope to welcome more. Despite the pouring rain, students were energetic and excited on the first day. This year, our production is "Giants in The Sky," a choice made with our students' input. The season will culminate in a performance in early February, and you can expect more information about the play in the next edition.

Leadership and Empowerment Clubs
Our Girl's Leadership and Empowerment Club resumed with an overnight retreat at the Mariandale Center in Ossining. It was a fantastic opportunity for our young members to connect and prepare for the upcoming school year. Activities included yoga, games, art, and a workshop on stress management and finding balance.
While our young men's leadership group had a slow start, we're actively brainstorming ideas to help it grow. The few boys who participate are grateful for the space to be themselves. If you know high school-aged young men who could benefit from a leadership and healthy masculinity program, please contact us at info@necspace.org.
Partnerships and Outreach
In October, we resumed our partnership with the Peekskill City School District, offering after-school programs at Oakside Elementary, Hillcrest, and Peekskill Middle School. Our classes include creative dance, mixed art, drama, and recycling art.
We've also begun our third year of therapeutic drama at the Children's Village, an organization dedicated to helping society's most vulnerable children. This longstanding partnership is a source of great pride for us.
Community Engagement Programs
To bolster our community outreach and support our staff, parents, and community members, we're offering wellness programs at no cost. We offer these programs to provide a space where adults can destress and creatively have fun. These programs include a Monthly Spoken Word workshop and performance at the Hudson Valley MoCA, Community Yoga, and Community Choir. While registration has been low, we hope these spaces will provide an outlet for the adults in our community. If you're local and interested in joining these programs, please contact us.
New! Voices of NECS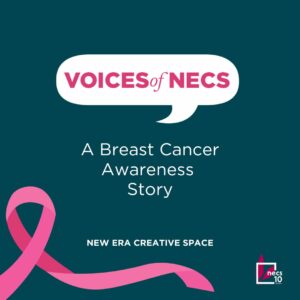 This month, we've launched a blog series called "Voices of NECS." Our team consists of creative and selfless individuals committed to our children and to making the world a better place. We come from diverse backgrounds with stories of love, life's challenges, and resilience. Through this blog, we hope you'll come to know us, understand what drives us, and perhaps even find inspiration.
In the first segment of "Voices of NECS," we'll hear from Lindsay Burgess, our Social Media Consultant, about how losing her grandmother changed her life. As Breast Cancer Awareness Month ends, Lindsay shares a personal and touching account of her grandmother's breast cancer story. To read the story, CLICK HERE.
Join us next month for more updates!
To learn more about our programs and to sign up, email info@necspace.org or call (914) 930-1777