From the Hudson Valley to The Gambia, it's been an incredible summer filled with travel, near and far, and lifelong friendships made. We also had a successful art-filled enrichment program this spring in the Dunbar Heights neighborhood of Peekskill and celebrated Juneteenth with our friends and neighbors in Peekskill. A heartfelt thank you to all the teaching artists, volunteers, parents, and community organizations we partnered with to help bring these experiences to our youth. If you would like to be involved in any way, go to our website for more information.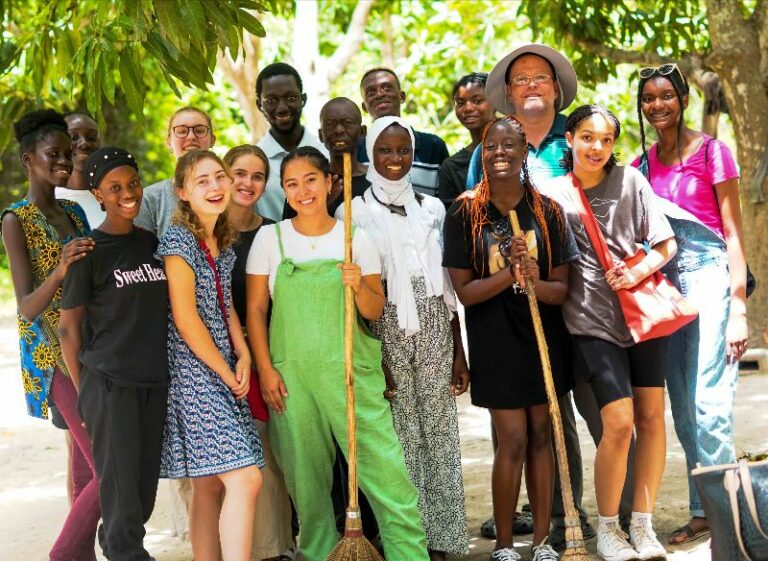 A Journey to The Smiling Coast of Africa
NECS piloted a service-learning cultural immersion trip with 9 young ladies who have participated in our programs for at least two years. The EmpowerED Girls Club journeyed to Starfish International, in the Gambia, an organization that is committed to advancing girls' education through service to humanity. Our students planned, facilitated, and engaged in workshops. We danced, studied, laughed, cried, served, and were transformed by the experience. We became a family. Here are just a few words from our participants. 

"Even though I was only at Starfish for 10 days, the mentors and students made it so easy to become part of the family. These girls will stay with me for the rest of my life. Their stories and their joyfulness has changed my outlook on life. No matter what they've been through, they look at their life with hope."  –Helena
"I have no intentions of leaving the relationship I have made with the various mentors behind because I will take their confidence, resilience, and joy with me halfway across the world. Their hope drew me to them like a moth to the flame, but in such a short time, they have taught me to stop admiring hope from a distance. Instead, how to become a beacon of hope and the importance of a positive outlook."  –Ariana Okoth
"My experience with Starfish was honestly life-changing. It changed my whole mindset on a lot of things. I mean, seeing these girls go through so much physically and mentally and still being able to come to classes, and laugh, and dance just really inspires me to always be grateful for everything I have."  –Adrienne Copland
Stay tuned for more stories, presentations, and sharing from our transformational journey to The Gambia!
NECS Nature Connection ran for the month of July, and judging from the feedback we received, the kids had a wonderful time. They learned about where their food comes from and sustainable living practices. They participated in many outdoor activities, getting in and on the water, kayaking, paddleboarding, hiking, gardening, yoga, painting, games, and much more. Each day began with a theme to reflect upon, such as kindness, courage, service, and gratitude, to name just a few. Thank you to all the community organizations that we partnered with.
And a special thanks to our Program Coordinators, Edwin Medrano and Mia Villeneuve, and youth counselor Crystal Jimenez.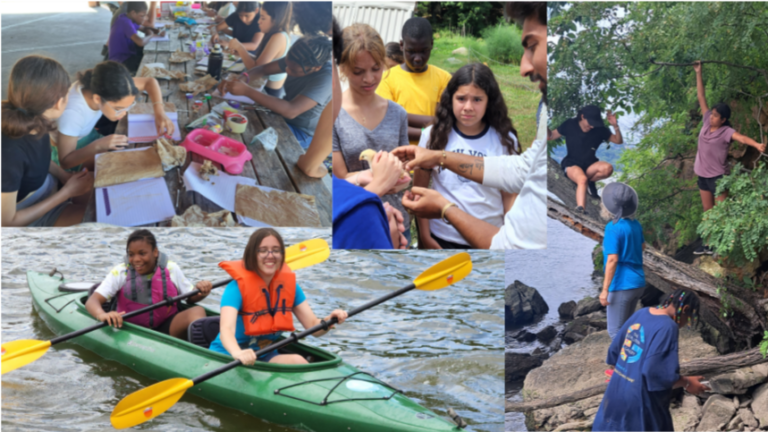 NECS took our mission of creative education into our after-school program in Dunbar Heights, Peekskill, this spring and summer. With a roster of expert teaching artists and teen mentors, we met 3 times a week for art, movement, and thanks to a community partnership with Second Chance Foods, children were also provided with hearty, nutritious meals. In the summer we offered 2 weeks of art and character education program.